Baton Rouge, LA  – July 13, 2012
Industrial Emergency Services, LLC ("IES"), a leading emergency planning, firefighting, rescue and safety services company accepts institutional investment to facilitate expansion of services and geography.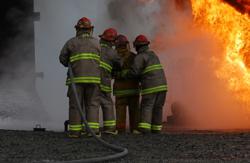 Industrial Emergency Services, LLC ("IES") (http://www.iesllc.com) announced this week that it has received a significant investment that will position the company for continued growth in the industrial safety services market.
IES is a leading provider of in-plant emergency response and industrial fire brigade services, emergency preparedness planning, plant turnaround safety support services, safety training, and pipeline safety services. The company has been providing its services domestically and abroad over a 13 year history for blue chip industrial customers in the refining, chemical processing, energy transportation, automotive and food processing industries.
In the transaction, private equity investors Aureus Capital, LLC, Foundry Capital, LLC and Al Trujillo, the former CEO of Recall Corporation, a global business services firm, acquired a majority interest. Source Capital, LLC provided mezzanine financing in support of the transaction. "Our investment group was attracted to IES largely because of its ability to consistently offer critical safety services to sophisticated customers in a cost-effective manner, allowing customers to focus on their core business with confidence," commented Trujillo.
Former majority owner and founder, Robert Andrews, will retain an interest in the company, while the management team, led by President Gracia Rosslow will continue managing the business. "I am proud of what we accomplished with IES in its first 13 years," said Andrews, "and am excited about the increased resources the investor group brings and the accompanying potential for IES to deliver its services to a broader range of customers."
As part of the transaction, the company's headquarters was moved to Baton Rouge, Louisiana where the company has a large number of industrial clients as well as a co-operative fire brigade providing multiple facilities with the same range of services provided to its in-plant fire brigade customers, but on a shared-cost basis.
Industrial Emergency Services, LLC ("IES"), was formed in 1999 to provide industrial fire brigade services on an outsourced basis for major petrochemical firms. The company's initial core capabilities of industrial, flammable liquid and marine firefighting, have been greatly expanded over time to include the provision of rescue standby services, a range of training services and inspection, maintenance and testing. The company has recently expanded its offerings related to pipeline safety to answer customer demand. IES provides services across the United States and internationally.
| | |
| --- | --- |
| For More Information: | http://www.iesllc.com |
| Services & Employment: | Gracia Rosslow, President, IES, LLC (225) 218-6458 grosslow(at)iesllc(dot)com |
| Press & Other: | Corey Golde, Aureus Capital, LLC (847) 910-5899 cgolde(at)aureuscapital(dot)com |
| | Logan Ide, Foundry Capital, LLC (404) 665-3122 lide(at)foundry-capital(dot)com |
| | |
| Press Release: | PRweb |